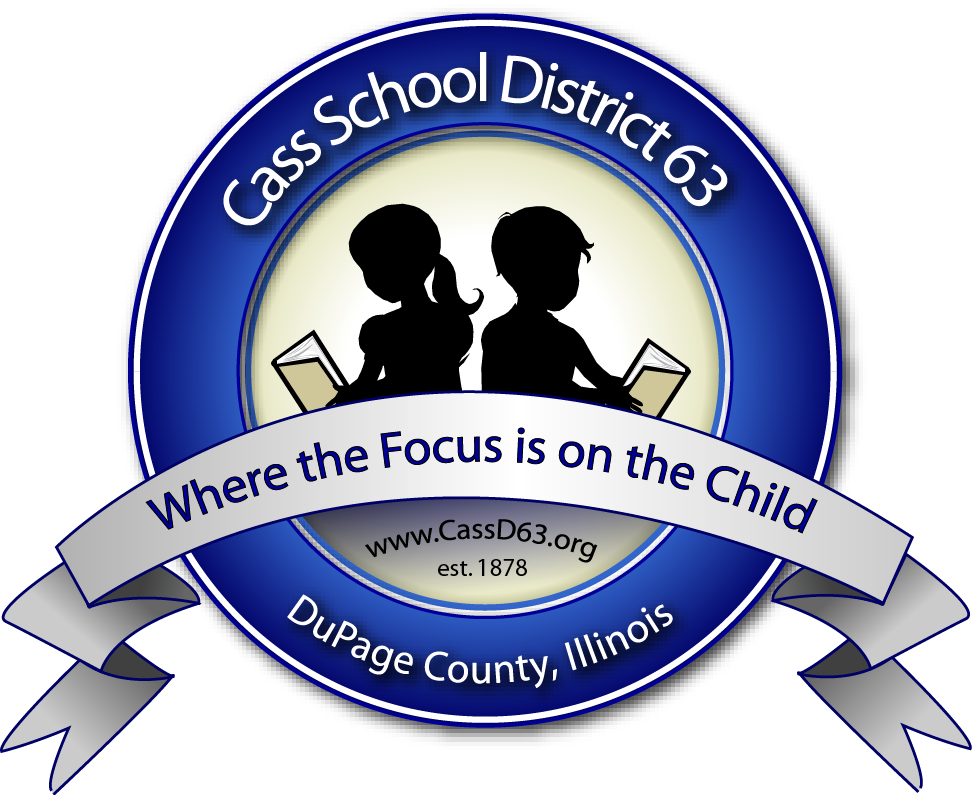 Board Briefs - April 27, 2021
The Board Briefs are highlights from the most recent Board of Education meetings. The purpose of the Board Briefs is to provide a timely summary to keep our staff, parents and public informed of the key items that were discussed or acted upon. More detailed information is available under the Board Agendas, Meetings and Minutes section of the District's website. Official minutes are not posted until approval at the following meeting.

Recognition of Outgoing Board Members

The Board of Education and Superintendent Mark Cross recognized outgoing Board of Education member Michael Ockrim, along with former members Jeff McCollian and Brad Carrino. Mr. Ockrim served on the Board of Education from 2013-2021, Mr. McCollian from 2015-2021 and Mr. Carrino from 2019-2020. We appreciate the dedicated volunteer service these three individuals brought to Cass School District 63!

At the April 6, 2021 Election, Urszula Tanouye and Steve Wyent were elected to four-year terms on the Board of Education and Rinku Patel to a two-year unexpired term he already holds after his appointment to the Board in November. At the April 27 meeting, our two newest members took their Oath of Office and after being seated. Congratulations and welcome to Mrs. Tanouye and Mr. Wyent!

Seating of New Board Members

The new Board also commenced with electing officers, which will continue to be Shelly Camden as President, Kent Absalonsen as Vice President and Alice Esposito as Secretary. Gayle Wilson was appointed as the Board's Recording Secretary and Michael McLean as Treasurer. All terms of offices and appointments are for two years.

As part of the reorganization process, the Board approved committee membership and also approved the detailed agreements and protocols as means to memorialize successful past practices and to continue a culture of effective Board governance in Cass School District 63.

Key Discussion Items

Principal Christine Marcinkewicz discussed the 8th grade graduation ceremonies to be held on June 3. To ensure plans for a successful and meaningful graduation, our ceremony will not be traditional but it will be much more personal and will allow for the inclusion of family and friends of up to 12 guests per student. The decision to not do a full-group graduation was based on ensuring the full participation of our students and families, avoiding a situation in which students cannot participate due to close contacts in the two weeks prior to the ceremony, and also to avoid weather-related postponements since the move indoors with a large group of people is not an option. Individual family ceremonies will be held throughout the day and evening from noon on into the evening on Thursday, June 3. In the coming days, Principal Marcinkewicz and Superintendent Cross will be providing detailed information to parents, including how to sign up for a graduation time.

Superintendent Cross updated the Board on the work taking place to find a solution for the B.A.S.E. program for the 2021-22 school year. In addition to the opportunity given to parents to share their interest in working in the program, Mr. Cross has also reached out to the Darien Park District to suggest the idea of partnering with them to continue this service, which they are unable to do at this time. He said the district is considering all options, including outsourcing the program to a third-party entity but we believe that this will come at a higher cost to families. Mr. Cross will continue to explore options and will communicate with the Board and district parents.

Superintendent Cross shared several updates with the Board regarding concerns with the district's HVAC issues and summarized his recent meeting with district maintenance staff, architects and engineers. He asked the Board for direction regarding the district's approach to resolving these concerns, while recommending a comprehensive, long-term planning and approach that is cost-effective and will make the best use of potential grant funding, should it be available for this purpose. After some discussion, the Board directed Mr. Cross to commence work the Facilities Committee as well as our school district architect and engineer to start the process.

In Key Action Items, the Board of Education…

Approved the employment of Shannon Wachowski, Cass English Language Arts Teacher, Quinn Csuk, Cass Special Education Teacher, Kelly Skalnik, Concord Teacher Assistant and Isabelle Sagat, Concord Teacher Assistant, effective at the start of the 2021-22 school year.

Approved a renewal of four SASED special education cooperative classroom leases for the 2021-22 school year.

Approved the Consolidated District Plan which allows the district to access federal funding.

Approved the 2021-22 Board of Education meetings dates, which will remain the third Tuesday of each month with the exception of December 2021 which will be held on the second Tuesday of the month due to winter break.

Effective with the May 2021 Board of Education meeting, all meetings will be held beginning at 7:00 p.m. at Cass Junior High School.
Board Briefs - March 16, 2021

Board Briefs - February 16, 2021

Board Briefs - January 19, 2021

Board Briefs - December 15, 2020

Board Briefs - November 17, 2020

Board Briefs - October 20, 2020

Board Briefs - September 15, 2020

Board Briefs - August 25, 2020